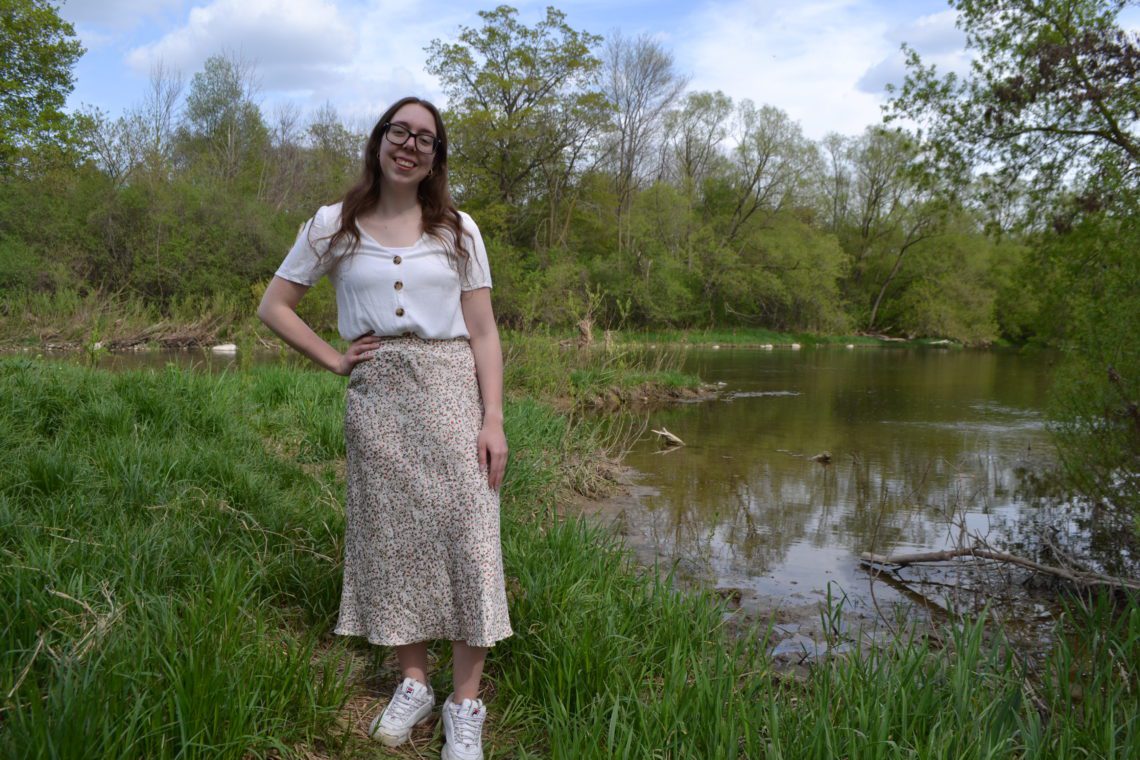 Waterloo Region, est. 1,959 residents
St. Jacobs, Ontario, is a lovely village that has transformed into a tourist destination because of its entertaining attractions. The community delights visitors by having a number of exciting activities to explore, including shopping on the main street, trying delicious food, and seeking out the village's historic elements.
The area sits on the traditional territory of the Mississaugas, Neutrals, Anishnaabeg and Haudenosaunee peoples before settlers started arriving in the late 1700s and early 1800s. While Mennonites would eventually make St. Jacobs their home, "as buyers and settlers, Mennonites were, and are, implicated in a larger process of Indigenous dispossession."
In order to open up more land for potential settlements, General Haldimand, the Governor of Canada at the time, purchased a piece of southwestern Ontario from the Six Nations in 1784.
After the American Revolutionary War, Joseph Brant of the Six Nations was granted land for six miles on both sides of the Grand River from Lake Erie to the river's source. Brant later sold some of this land to Richard Beasley in 1796, but legal difficulties would arise. With Beasley unable to subdivide the land and sell it to individual settlers, many pioneers were reluctant to make their homes in the area.
Early History
It wasn't until 1830 that the first settlers arrived in the St. Jacobs area. Early arrivals included the Simon Cress family, Abraham Erb, and John B. Baumann (or Bauman). Valentine Ratz constructed the first sawmill to the west of the village in 1844, and the first school was founded the same year. For the most part, school lessons were taught entirely in the local dialect of German, as the majority of the population at that time spoke the language.
A significant influx of pioneers started moving to the area in the 1850s, which consisted mainly of Mennonites from Pennsylvania, otherwise referred to as Pennsylvania Dutch (a mistaken translation for German "Deutsch"). They became known as "Old Order" Mennonites due to their more conservative lifestyle.
The village was first named Jakobstettel, meaning Jacob's Village. The name was officially changed to St. Jacobs in 1852, with "St." being added "for the sake of euphony." The pluralization was also included as a way to honour Jacob C. Snider and his son, Jacob C. Snider, Jr., who built a sawmill, a flour mill, a woollen mill and a dam in the region.
By 1869, the population of St. Jacobs was 500 residents. With several resources and businesses opening up, people were attracted to the small community. Due to this growth, a rail line was eventually built in 1891, but it strangely didn't boost the area's population. It wasn't until the 1950s that St. Jacobs finally saw a significant population increase.
Today, the surrounding rural areas of St. Jacobs are still home to the largest population of Old Order Mennonites in Canada. Many farmers still retain the religion, customs and lifestyle of their 19th-century ancestors.
Business is Booming
Despite being such a small community, St. Jacobs had a number of different businesses the townspeople could buy their goods from. While agriculture was an integral part of the rural community, by 1867, the area also thrived by having a flour mill, a tannery, a harness shop, a wagon maker, a woollen mill, a barrel maker, a distillery, several general stores and hotels, along with other artisans and tradesmen.
One of the companies to expand out of the area was Home Hardware, which was founded in 1963. Its roots trace all the way back to the 1880s in St. Jacobs, originating as a tinsmith shop. The business was later sold to Henry Gilles, who added a blacksmith shop and hardware store managed by his son, Alfred Gilles.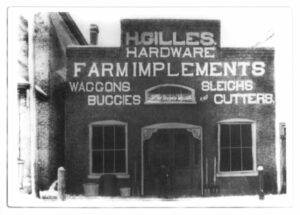 In 1933, Henry Sittler took over as manager of the hardware business. He stayed on after the store was sold to Gordon Hollinger, who added a wholesale division to the hardware store. In 1938, Walter J. Hachborn began working for Hollinger as a teenager for $8 a week. When Hollinger died in 1948, Hachborn bought Hollinger Hardware with Sittler and Arthur Zilliax in 1950.
As the business grew, new ideas were brought forward. During a meeting in 1962, Hachborn and Sittler agreed that independent hardware store owners would benefit from an organization that would allow for lower wholesale prices due to buying in bulk. They met with 25 store owners at the time, and in 1964, 122 dealers committed to the concept, paying to acquire the new corporation, Hollinger Hardware Limited.
The company started this new business model with Hachborn as general manager. Eventually, this would lead to the Canada-wide dealer-owned cooperative business that we know today, with the Home Hardware head office and the massive distribution centre remaining in St. Jacobs.
St. Jacobs Today
St. Jacobs Farmers' Market was opened in 1952 as the Stockyard Farmers' Market and operated alongside the Kitchener Stock Yards. Around that time, Abner Martin — one of the owners of the Kitchener Stock Yards — had about 25 to 30 vendors selling their goods at the market.
It wasn't until 1975 that the Kitchener and Waterloo Stock Yards merged and moved to the market's present site. In 1987, Ross and Milo Shantz pushed for the construction of the two-level Farmers' Market Building. The main floor was designed to hold food, while the top level was home to the arts and crafts vendors.
After more expansion and tremendous growth, the Stockyard Farmers' Market was changed to the St. Jacobs Farmers' Market & Flea Market in July 1991. It has become Canada's largest year-round outdoor market.
Jacob's Grill serves up delectable dishes in the heart of St. Jacobs. The restaurant was opened in 2007 by Sandra Shantz in what used to be Vidalia's Market Grill and was purchased by Nick Benninger and the Fat Sparrow Group at the end of 2018.
Stone Crock Bakery was opened in 1975 by Milo and Laura Shantz and moved to its current location in 1989. The bakery has an array of goodies, including fresh bread, baked goods and savoury treats, that will sure to leave your mouth watering. Sandra took over the business after her parents retired and also sold the bakery to Benninger and the Fat Sparrow Group in 2018.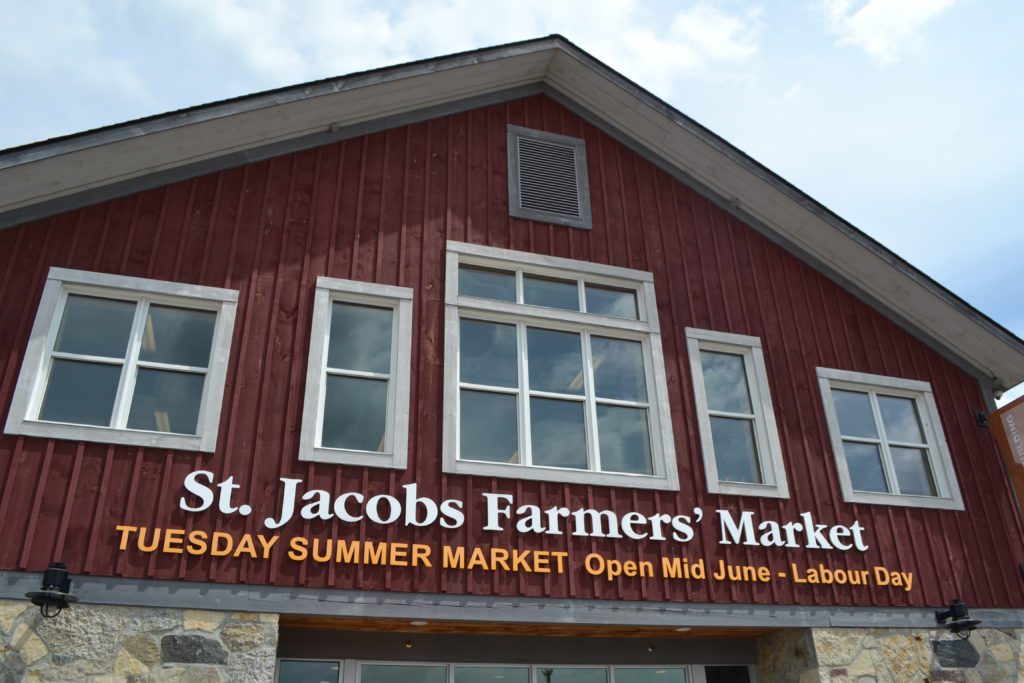 Market Road Antiques has a little mix of everything for those looking to liven up their homes with one-of-a-kind finds. With over 140 dealer booths, the extensive array of fine estate jewelry, quality furniture, books and art, vintage clothing, toys, vinyl records and other collectibles will ensure an enjoyable treasure hunt for all.
EcoCafe opened in 2016 and is located in a flour mill that was built by Jacob C. Snider in the mid-1800s. The cafe offers fresh small-batch roasted coffee from Eco Coffee Corp. in Waterloo and prioritizes sustainability and ethical sourcing when it comes to its products.
The Health Valley Trail runs between St. Jacobs and Conestogo and dates back to the earliest days of both villages. Formally the Conestogo River Trail, the Health Valley Trail was a Conestogo/Winterbourne Optimist club project in 1992. The 5.1-kilometre multi-surfaced path is a great spot for those interested in hiking, birding and biking in the summer and cross-country skiing and snowshoeing during the winter.
Although the area remains a quaint village, St. Jacobs has transformed into a tourist hotspot because of its retail focus and historic Mennonite heritage. The village was once a place for quilt makers, bakers, historians, and retirees to visit, but a shift in travel interests has also helped it become a popular destination for millennials while retaining its traditional atmosphere.
A big thank you to Erin from the Fat Sparrow Group and Ed from EcoCafe for providing me with more information about their businesses.