Wellington County, est. 4,629 residents
Rockwood, Ontario, is a quaint town that was founded by hardworking individuals with an abundance of community spirit. The village truly shines around its natural elements, with the Eramosa River taking centre stage.
The area was originally home to the Attawandaron (Neutrals) and later the Mississaugas of the Credit River, who surrendered a large tract of land to the government in 1818.
The first settlers arrived in Rockwood around 1821 and were mostly Quakers. Naming the settlement Brotherstown, some of the first pioneers included the Ramseys, John Harris and William Smiths (senior and junior). While the settlers believed themselves to have found a heavenly location to set up their new home, they soon discovered how difficult the land could be.
The Early Years in Rockwood
When the first pioneers made it to Rockwood, they had to blaze trails through untouched forests with heavy supplies and were said to be the only ones living in the entire county at the time. At first, the trek was rough, but their determination and belief got them through those early years.
By 1826, more and more families started popping up in the region, and when 1840 rolled around, nearly 900 residents had made the area their home. Colonel Henry Strange was integral to this growth as he surveyed much of the community — laying out local business lots — and opened up a lime quarry.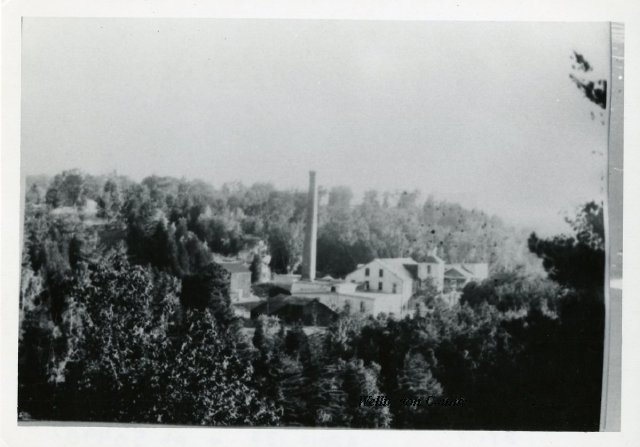 By 1850, the community was known as Rockwood because of its high rocky hills and stunning views of the river valley. Within a few decades, "Rockwood became a well-rounded town" that many looked to settle in.
John Gamble built the first sawmill in Rockwood, with settlers travelling from near and far to obtain milled building materials. The Harris Family, led by John R. Harris, built a woolen mill in 1867, which would go on to make internationally renowned woolen textiles. Both mills were also integral to the industry and economic growth of the area.
Rockwood Academy
One of the defining features of Rockwood's history is the Rockwood Academy. Founded in 1850 by William Wetherald, Rockwood Academy was a private school that operated until 1883. In the 1870s, the Ontario government created collegiate institutes to provide secondary education, which lessened the demand for private education in the region.
The academy school for older boys and young men had a curriculum filled with English, mathematics and Latin. Tuition cost $21 for three months, which did include room and board. This price was fair for the time and helped young men from modest backgrounds attend, along with those from wealthy families.
The gorgeous three-storey stone building was constructed in 1853 and still stands today as a private residence.
Limestone and Turnips
Rockwood has had two significant industries of importance throughout the town's long history. The extraction of limestone and turnip farming made the area different from others in the region.
Lime production began in Rockwood around the mid-1800s. Two quarries were located only steps away from residents and businesses, creating dangerous conditions for anyone nearby. For many hours, steam engines provided power for jackhammers and other equipment. Smoke also constantly billowed from the kilns, and loud bangs rattled dishes when chunks of limestone were blasted loose.
While this industry was disrupting to locals, it also gave many living in the area additional income they wouldn't usually have. During the winter months, when farming was slower, farmers would head to their bush to cut firewood and sell it to limestone companies so they could fuel their kilns.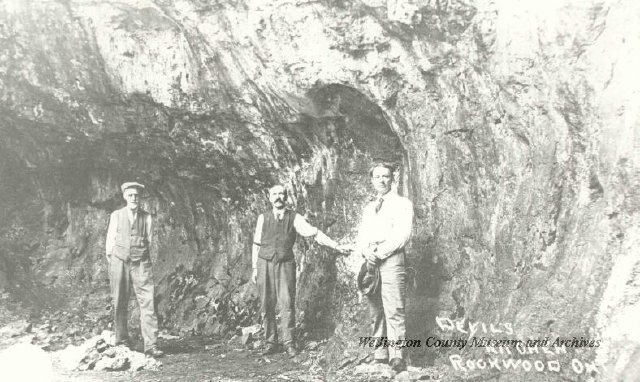 One of the most successful limestone companies in the area was Rockwood Lime Co. Originally, the company produced up to 365 tons a day in wood-fired kilns before switching to coal in the 1930s. After many years, the lime plant ceased operating in 1973.
Turnip farming is another industry Rockwood is known for. Around 1895, Davis Shultis shipped some lambs to the British market and added a supply of home-grown turnips for their feed. A few people at the docks tasted the root vegetable and wanted more for human consumption.
Rockwood's limestone base meant the soil was optimal for producing the savoury root vegetable, and farmers were able to grow them in large quantities. Pat Barry recognized a business opportunity and started partnering with farmers to deliver their turnips to the tables of families in places like Florida, New Jersey and New Orleans. One hundred loads per day were shipped by rail to the United States, where they were renamed rutabagas.
By 1903, the County of Wellington was heralded as the largest producer of turnips in Western Ontario, generating one-tenth of the crop grown in the province. But as time moved on, so did the industry. By the 1950s, turnip farming moved further west to Huron County, where bigger tracts of land could be used to produce the root vegetable.
Rockwood Today
The Rockwood Conservation Area is a haven for locals and tourists alike. Established in 1959, the site offers spectacular views of towering limestone cliffs, caves and glacial potholes that will take your breath away. You can easily spend an afternoon hiking, swimming, canoeing or kayaking, fishing and finish the day winding down at a campsite. The area's unique natural wonders have become a popular location for television shows, movies and photographers to capture.
The Halton County Radial Railway and OERHA were created in 1954 by a group that wanted to save a Toronto Transit Commission (TTC) streetcar from being sent to the scrap yard. After receiving the donated streetcar, land that used to be part of the Toronto Suburban Railway was acquired, with several other street and radial cars also rescued.
The museum officially opened in 1972 after the Rockwood Train Station moved from its original location a year earlier. The Rockwood station was a stop on the Toronto & Goderich Railway Company line before it was purchased by the Grand Trunk Railway in 1854. Today, the Halton County Radial Railway displays and operates a variety of historic streetcars, radial cars and work cars and features photographs and archival materials from the past.
Chompin At the Bit provides an enjoyable meal and exceptional service for those looking for a place to eat in Rockwood. Michele Paquin-Felske took over the business in 2015. With the help of her team — including Stacey and Liz — the restaurant was renovated and soft opened on New Year's Eve before reopening officially in January 2016.
Rural Roots Artisan Shop was only opened in April 2023 by Sarah Vickery, but it has already become the perfect go-to shop for locals to find gifts and something extra to spoil themselves. The store offers local honey, baked goods, preserves, candles, home decor, art, jewellery, pottery, and local souvenir items. Everyone is sure to find something special inside.
Rockwood is a wonderful village surrounded by breathtaking views. The area is proud of its remarkable heritage and, thanks to several individuals, has done a fantastic job preserving its town's history.
A big thank you to Sarah from Rural Roots Artisan Shop and Michele from Chompin At the Bit for providing me with more information about their businesses, as well as Deborah Quaile (author of "Rockwood: A Mosaic of Memories"), Don Hilts and George Day (authors of "Rockwood") for their invaluable resources.