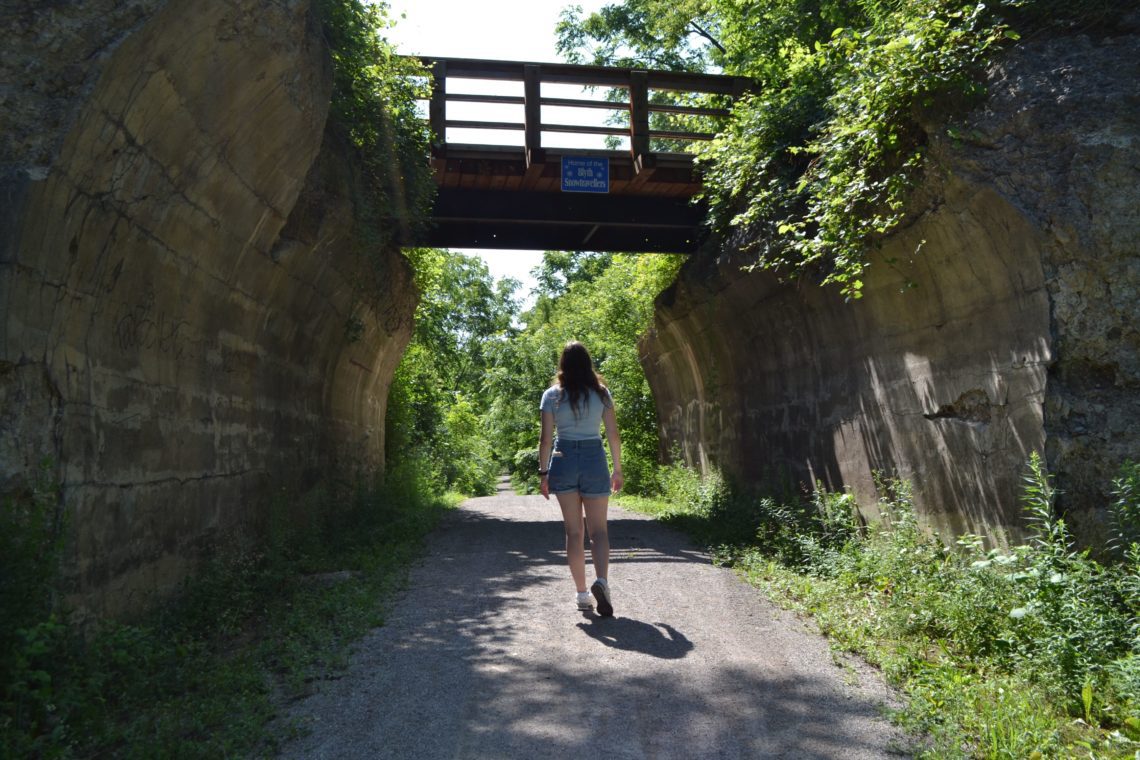 Huron County, est. 1,065 residents
Blyth, Ontario, is a charming town that has found a way to blend arts and culture seamlessly. The area was settled in 1851 on the traditional territory of the Anishinaabe, Haudenosaunee and Neutral peoples.
Lucius McConnell and Kenneth McBain were two of the earliest European settlers in the area. Four years later, William Drummond came up with the idea to create a village on his father's property. Around 200 lots were sold, and the area was advertised to potential settlers as the "Village of Drummond" despite never officially being the town's name.
In December 1855, a chunk of land was sold to Henry D. Blyth, a wealthy absentee landowner. The village was then renamed Blythe (the "e" was dropped in 1862) after the first post office opened in July 1856 on the southeast corner of Dinsley and Queen Streets.
Growing a Village
From there, the village developed slowly. By 1858, the town had a population of 30 and boasted a church, a tavern, a hotel, a blacksmith shop, a tailor, a shoe shop, a sawmill and the aforementioned post office.
As the mid-1860s rolled around, Blyth's business sector continued to expand. Some of the area's industries included a grist and flour mill, a steam sawmill, four general stores, a stove and tin shop, a carriage and wagon factory, three blacksmith shops, a saddlery, a tailor shop, three shoe shops, and multiple hotels.
In January 1876, the area's first railway station as part of the London, Huron and Bruce Railway was opened. The next year, the village also became incorporated, with a population of 850.
Blyth's population reached an all-time high at the turn of the century when around 1100 people called the area their home. In 1907, a stop of the Canadian Pacific Railway line from Guelph to Goderich was established in Blyth. A daily train travelling through the area included a passenger coach with connections to Toronto. The rail line made its final stop in 1988 and is now part of the Guelph to Goderich (G2G) trail.
Rutabagas and Blyth
While other industries have come and gone, rutabagas have been part of Blyth's agricultural history for a long period of time. In 1939, Russell Dougherty put Blyth on the map when he began waxing rutabagas. By 1944, he was able to build a waxing plant near the CPR station and moved his operations there for easier transport.
Innovation continued as Dougherty's business grew. In 1951, he built North America's first precision seeder, which allowed for rutabaga seeds to be dropped into the soil one at a time. Until then, seeds were thickly sown and hand-thinned when the plants grew.
At its peak, Dougherty's waxing plant had fifteen people working on trimming and waxing rutabagas during the winter months, processing around 1,500 to 1,800 bushels daily. Throughout the summer, up to 150 people would be busy working on harvesting the root vegetable.
In 1963, Dougherty sold the plant to George Hubbard, who had started growing and processing rutabagas in a rented barn near Bright. In his first year, Hubbard grew 70 acres of rutabagas, and by 2001, he increased his farm to 275 acres. Today, the plant stores up to 200,000 rutabagas waiting to be shipped to markets in Canada and the United States.
A Town's Pride and Joy
Since 1975, the Blyth Festival Theatre has celebrated Canadian storytelling. Rural Canada has been brought to the centre stage because of the passionate individuals campaigning that small stories can be just as imaginative and worthy as any Shakespeare play.
The Festival began as the only summer theatre producing original Canadian plays, and one of the very few theatres in Canada exclusively producing Canadian plays. To this day, the fully professional theatre continues to reflect the culture and concerns of the rural people and stories in Southwestern Ontario.
Blyth Today
The Blyth Repository of History was established by Brock and Janis Vodden in 2004. With their dedication and the help of numerous volunteers, they have created one of the most comprehensive collections of village history in Canada.
The G2G Rail Trail is a 132-kilometre path that runs from Guelph to Goderich and conveniently through the town of Blyth. The stunning trail has transformed into a natural, historical and culturally significant conservation corridor that continues to promote community recreation, healthy activity and environmental awareness.
The idea for Maple and Moose was set in motion by Bev Elliot in 2005. The store was opened in a magnificently restored historic building from the late 1800s and uses antique furniture to display its merchandise. Maple and Moose features a diverse selection of top-quality Canadian products, which includes everything from gourmet foods to uniquely crafted items.
Cowbell Brewing Co. was opened in 2017 by a group of successful craft beer enthusiasts. Looking out at more than 120 acres of Huron County farmland, the group envisioned a place where people could gather to have good times. Their dream became a reality when Cowbell opened its doors, serving top-notch food, a wide assortment of craft beer and a one-of-a-kind experience.
Sweets N' Treats was started by Debbie Busby in 1996. She began her business by making delicious desserts in her kitchen, but it grew to where she was able to quit her day job to continue to expand. Today, the location in Blyth sells decadent gourmet treats and other divine goodies.
Blyth is a delightful small town that has done a brilliant job keeping its history alive. Not only have various volunteers created one of the most complete collections of its town's history, but they continue to be a leader in effortlessly combining arts and culture in Southwestern Ontario.
A big thank you to Bev Elliott from Maple and Moose for providing me with more information about her business, as well as Karen Webster and Deb Sholdice from the Blyth Repository of History for providing me with more information about Blyth.